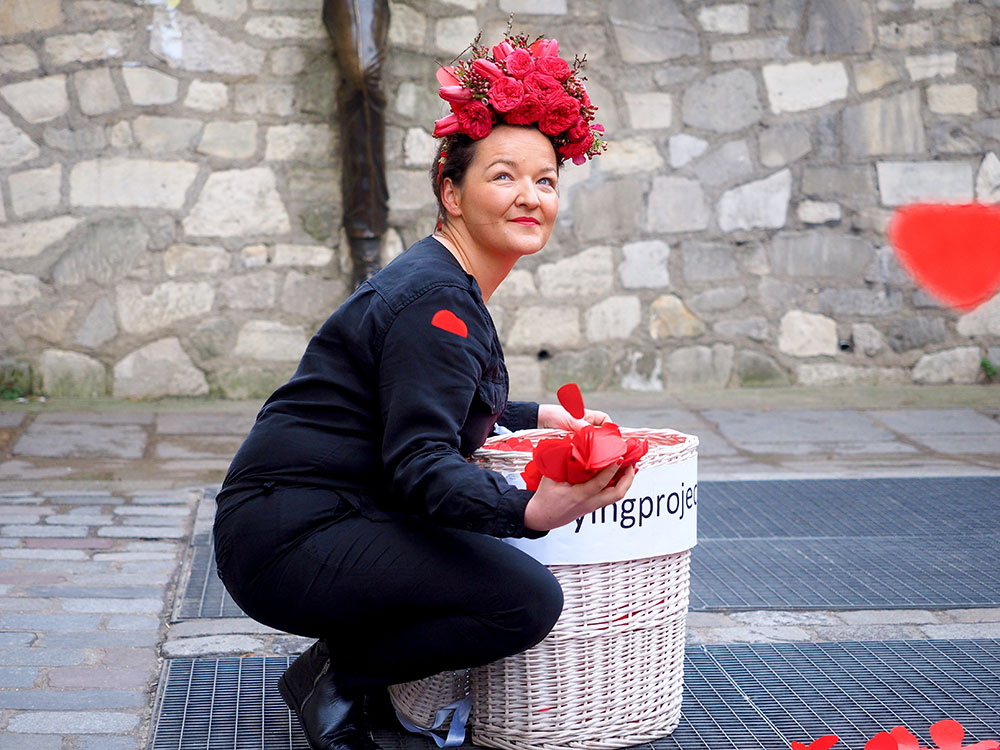 Flying Project is street art, even better, it is sweet art*! How to suspend time or share the beauty of the world and enjoy life. This is unconscious meditation!
Anne Cazaubon is a humanist artist (with an exciting career … I am telling you her other adventures in another article, there is so much to say!) and one of her best qualities is generosity. Through the Flying Project, she offers passers-by a very emotional moment and it is a wonderful gift. It creates a bubble in which everyone can find his own form of serenity. By speaking to the Human in general, she makes her art universal, no matter what culture, beliefs, language you speak, magic operates. By touching our hearts, she reconnects us with the child that we still are (more or less deep inside) and put smiles on our faces for much more time than her artistic performance lasts.
Where, when, how?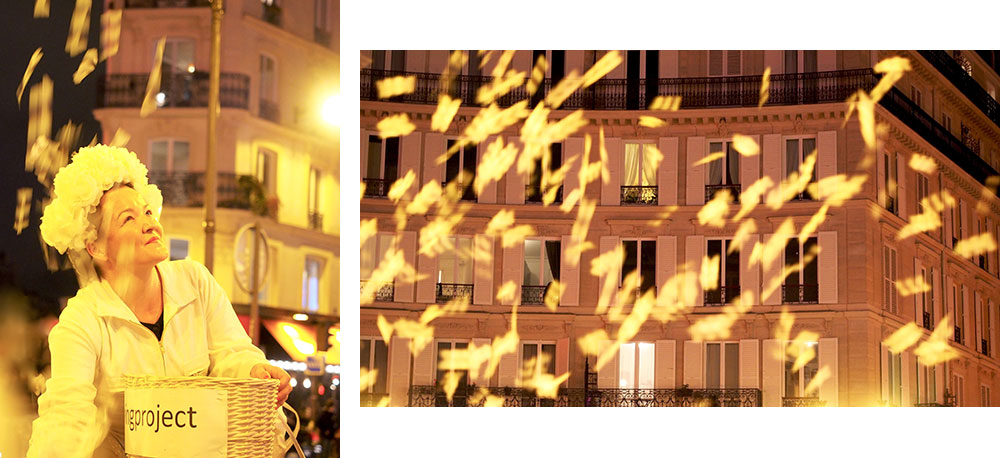 Anne gives us an appointment on Instagram and Facebook (each one his.her tribe, you can even combine!#flyingproject) and arrives, at the hour H., in silence, with a magnificent crown of natural flowers**, her sincere smile and her sack full of confetti. Then she places herself over the subway railings. She previously chose with care the best place and lets go her hearts.stars.butterflies (it depends) made in biodegradable paper. They fly, swirl, then rise in the sky. They put some colors in the city of light, touch buildings facades, trees, street furniture… It contrasts with the clouds and plays with us. We forget Time. There is only place for wonder. Guaranteed effect!
The Flying Project effects?
Attracted by this continuous flow of colored papers, the crowd grows as the performance takes place and people need time, after the release of the grande finale, to disperse.
Children pick up the confetti on the floor and play over and over again. The adults are more discreet, they slip a few into their pockets, as a souvenir. Everyone is
joyful, paeceful, seduced by the art performance
.
We
exchange among unknown people
this joy that has gathered us. Lovers kiss each other.
We smile and laugh
. That's life.
We find regulars again because each time, the magic is more and more intense. First of all, the emotion is so great that we want to have it again and again. And then every new appointment has its own singularity. Each Flying Project is unique and it's so beautiful that you want to collect them. To the question: what is your addiction? You answer: My drug? It is confetti! 100% natural (and biodegradable!), no side effects, highly recommended from 7 to 77 years (and more)!
I have only one advice to give you: try the experience! I'm sure you will not be disappointed. If it is not possible for you to come to Paris, I have only one wish…. that the Flying Project travels to you! Anne would be delighted to show her art beyond our capital, then, who knows, maybe other cities will soon welcome her, that's all I want!
Let's start the story from the beginning
The why and the how … it is always fascinating to understand the mechanism about emotional things. A good recipe need several ingredients, it is exactly the same with the Flying Project. It was born from a combination of events.
From the depths of the Earth…
After spreading her poetry in the subway with her « textopolitains » (To know what I am talking about, let's have a look to Anne's Portrait. As the name indicates, it is about little messages in the subway), she wanted to re-surface. Like the bird that opens its wings, she took flight without denying her dear metropolitan: confetti flew away thanks to the « breath of the metro » (air blast of the metro railings). Highly symbolic!

… to the limitless sky
The idea was inspired by the call of starlings, the famous cloud composed of hundreds or even thousands birds which, in the twilight, between November and February, fly as harmoniously as a corps de ballet. This delicate movement serves to pass necessary information from one bird to another to maintain the survival of the group. It is absolutely sublime to observe. Nature is magic. Anne's confetti is so light, blast of air from the subway railings is never constant and weather forecasts can be unpredictable, all these components form the perfect formula to reproduce this curious and random phenomenon and convey a certain art of living …
Poetry as an answer to war
Art is inspiration
We can add a play *** to this first source of inspiration. The director conveyed the horror of the war by diffusing, via big fans, a rain of red glitter dust. A translation of the frightful reality where only the emotion passes, as filtered from all the monstrosity of its subject.
Anne who loves glitter dust so much saw a sign from life when she saw this play. She didn't know that there would be another sign, a little bit later, which would push her to use her poetry against another atrocity.
Let's speak with the heart
A few days after the attacks of November 13, 2015, Paris is in mourning. Many people come to visit the place where so many people have lost their lives, especially in front of the Bataclan, the theatre near Place de la République. It is both real and incomprehensible. It is an immense shock for everybody and each one responds in his own way.
Anne's artistic soul would guide her to the square with her sack full of red hearts and a simple sheet of paper on which she wrote " Chin Up" like a mantra to breathe life into this immense sadness.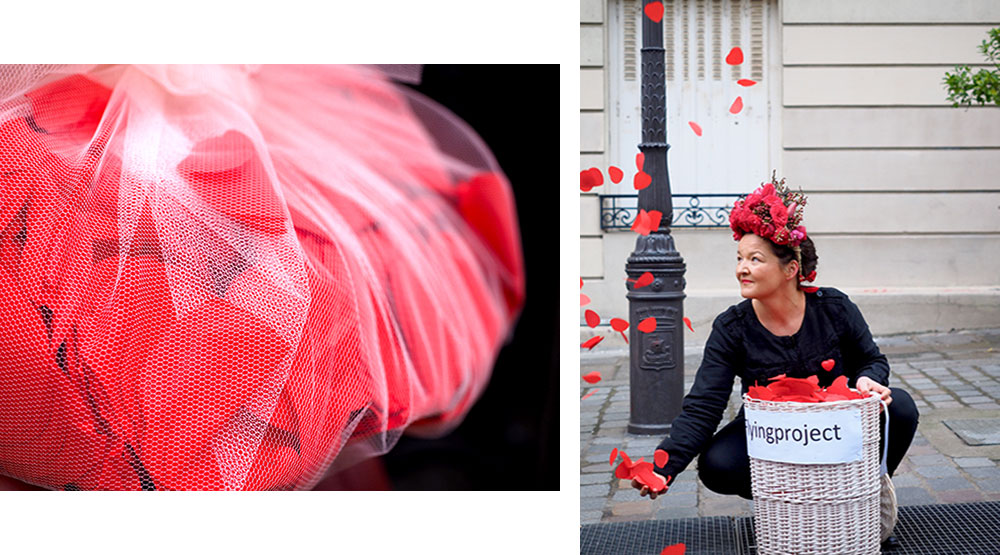 That day, the wind decided to carry the hearts as far as the Bataclan theatre, like a swing of love for all these people in sorrow. Moreover, some of them were intrigued, so they followed the hearts flying in the sky and found Anne distributing this warm and comforting emotion. From horror can arise something beautiful. Obviously, the first one cannot prevent the other but it can help to bear it, it can help to regain the strength to face up life. We are stronger together, sharing our pain is helpful and this message of peace allows people to move forward and believe in the future.
Anne's confetti is made to feel good. It was the perfect time to warm people's hearts and share this special moment all together, wasn't it? It proves that if Human beings can do the worst, they also know how to generate the best.
Zero ecological footprint, 100% emotions
What do you think about something good for Human beings and which takes care of the Planet? Because both of them are essential, Anne Cazaubon's approach is completely ecological.

She uses biodegradable confetti. At the first rain, it disappears, so it is not necessary to pick it up and it does not pollute our environment. Much better, some of it will escape, for a few days, from the drops of water… so, during this short period, we will be able to think again about this marvelous moment or, as a charming person told me, we will dream again and it is priceless…
By using the air powered by the metro stations, no energy is spent for the performance. Beyond the link Anne created with the subway, there is this desire not to damage our planet.
This very beautiful initiative is good for everybody, even to Mother Nature.
Behind the fairy
If the concept seems simple, (it is just a illusion because it is not so easy to have this great idea, is it?) it is quite different from the realisation.
Magic needs to be prepared!
Flying Project's star : confetti
There is of course the choice of the supplier for the confetti, then it is necessary to determine with him what is possible in terms of form and colors. For example, Anne would dream of launching biodegradable glitter dust – a sort of peak of happiness – it is technically possible, for instance in the US, but unfortunately it still costs a lot of money. When we know that she releases around 10kg of confetti for every Happyning (yes, that's what she calls them), you can imagine that you have to make some compromises. But who knows, if her sweet art grows, the dream could become reality.

Take care of the setting
In addition to all of this, there are 2 crucial steps to make the Flying Project a complete success.
The first is the location. The air differs from one metro station to another, but sometimes also from one day to another. It makes Anne's work more complicated. She therefore needs to choose the place according to:
– the location of the metro (Place de la République is a strong symbol, Pigalle neighborhood with the Moulin Rouge cabaret in the background or Montmartre because it is so romantic). Some places are more appropriate for a nocturnal event, others are more suited to daytime. The setting must be adapted to the theme.
– the regularity of the metro station breath is essential to push the confetti as far as the stars.
Work's properties
Last but not least, brewing. The water-soluble paper is compacted to be cut with the chosen shape. Brewing allows the confetti to be detached from eachother for a wonderful take-off without « mass » effect ». Mixing the paper requires long hours of work. Indeed, it takes about 1 hour per kilo … so for the 10kg used at each Flying Project, the calculation is simple, you need to do a little preparation in advance.
Behind the Magic, there is always meticulous and hard work. We like to forget that idea and this is a good reminder. Joy does not appear on its own. It is not a gift which we deserve. We need to build it and its full value is the result of a job well done. Doing something we like is already happiness, isn't it?
So, shall we meet at her next Happyning ?

* Sorry, the link goes to french website
** The crown in natural flowers is made by Baptiste who works at @woodypoppy flower shop. Baptiste is a young man who loves the artistic part of flowers. I have met him and I will tell you his story soon.
*** Which play? Woyzeck by Georg Buchner, directed by Jean-Pierre Baro
EnregistrerEnregistrer
EnregistrerEnregistrer
EnregistrerEnregistrer
EnregistrerEnregistrer
EnregistrerEnregistrer
EnregistrerEnregistrer